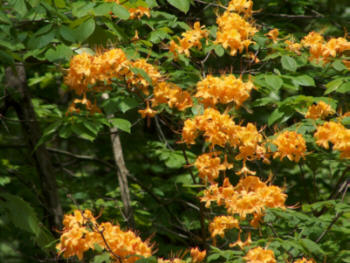 Flame Azalea

Click photo for high-res version.
NC, VA, WVa Mountain Flowers
One of the many gifts passed to me by my father as I grew up in the West Virginia mountains, was appreciation and knowledge of the various wildflowers, especially those of spring. My favorites were Trilliums, Trout Lilly (Dog Tooth Violet), Jack-in-the-Pulpit, Bloodroot, Wild Ginger, and even the lowly Water Cress.

Speaking of Water Cress, my Mother taught me the many eatable "greens." The early spring Dandelion, Wild Lettuce, Wild Cabbage, Sour Dock, Wild Beet, Big Dock, and others.

In later years, my spring hunts for the elusive wild turkey took me to the highlands of Pocahontas County, WV. During middle April, the Trout Lilly were of such profusion, we didn't want to walk on the forest floor for fear of treading on them.